Though some people tend to hide their true emotions behind protective exteriors, St. Charles author John W. McGuire, Sr. reveals then all in his first book of poetry.

One Man's Life: A Poetic Review consists of 64 poems written by the 43-year-old McGuire during the last 30 years.

McGuire shows a sensitive side as he deals with serious topics, such as family, divorce, loyalty, and love. He also writes about the lighter topics, such as motorcycle riding, weightlifting and skydiving.

"People who have read it say its a very interesting, sensitive, easy-reading book," he said.

The women enjoy it because they are interested in how men think. The men enjoy it because they can relate to the masculine viewpoint that is being conveyed," McGuire said.

McGuire began pursuing publication of his writing five years ago after a suggestion by Joanne Webber, program manager for DuPage County Divorce Education Program, who read one of his poems.

Webber said McGuire's poem was unique because it showed his sensitive side, which is something not many males show in their writing.

"There are plenty of male poets, but they don't express their feelings as much as women tend to," she said. "I think there should be more men expressing their emotions about life's difficult situations," she added.

Though the poems specifically deal with McGuire's feelings and experiences, he said many people can relate to the book.

"It is about enough general topics that have to do with everyone else's lives," he said. "This book is about all of us taking a look at our own lives."

McGuire said he feels strongly about the topics in the book, which make writing about them a difficult task.

"It took a lot of courage to open up my life for review," he said, adding, "Reality and honesty are the cornerstones of my writing style."
---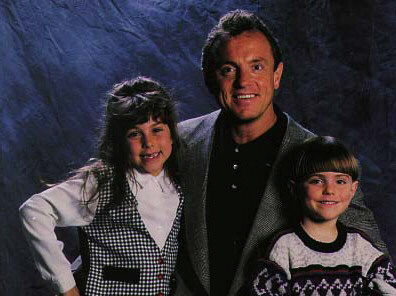 Poet John McGuire, Sr. poses with his daughter Kelly Lynn and son Ryan Michael, who are the inspirations of several of the works in his book of poems.
---
On the topic of family, McGuire said, "Nothing is more important than restoring our greatest natural resource, which is the American family."
McGuire also takes love seriously. "Love is a driving force. Wars have been fought over love," he said.
Likewise, the book is dedicated to the preservation of the American family and to the restoration of romance and respect.
In addition to these topics, the book also has other themes and messages for the reader. The Mission is about setting goals. "Everyone should have a mission statement, a goal," McGuire said.
My goal was to achieve all I could achieve, and to deliver the truth in my writing," he said.
The poem, My Lady is dedicated to his girlfriend, Robin Campbell. Other poems include Alcohol, Loyalty and My Harley.
McGuire's book, which has been out for more than two weeks, is available at Townhouse books in St. Charles. He will hold a book signing from 9 a.m. to noon on Saturday at Powerhouse Gym in St. Charles and from 11 a.m. to 4 p.m. Saturday, Oct. 14, at Townhouse Books.
He already has begun working on a second book, which is expected in 1996.